Are you curious about the beach bum lifestyle? Do you want to know what it means to be a "beach bum"? In this blog post, we'll explore the meaning of being a beach bum and what the lifestyle is all about.
To some, the phrase "beach bum" may connote an individual who spends an excessive amount of time at the beach, but there is much more to it than that.
We'll take a closer look at the pros and cons of the beach bum lifestyle and how it can fit into your life. So grab your sunglasses and your flip flops because we're going on an adventure!

What is a beach bum?
A beach bum is someone who spends a lot of time relaxing and enjoying the beach. They may be young or old, but they all have a laid-back attitude and a love of the sun, surf and sand.
Beach bums often come from all walks of life – from students to retirees, from career professionals to stay-at-home parents.
While some beach bums may be working, their primary purpose is to get away from the hustle and bustle of everyday life and enjoy some time with nature.
Beach bums may also spend their time fishing, surfing, snorkeling, or just lounging in the sun. All in all, being a beach bum is about taking time to relax, enjoy the beauty of the beach, and forget about the stress of everyday life.
Characteristics of a beach bum
A beach bum is the ultimate free spirit; one who values the ocean and its environment and has an unbreakable appreciation for nature.
They are usually seen sporting shaggy, unkempt hair, tank tops and swim trunks, with no shoes on their feet – a look that is as comfortable and convenient as you can get.
Beach bums often wear the same clothes over and over again, and don't adhere to any particular fashion – it's a way of life. You'll often find them with a bottle of sunscreen close at hand, taking in the sunshine and making an extra buck or two by selling margaritas.
Beach bums are usually unemployed or on welfare, making extra money by selling margaritas while they soak up the sunshine.
Despite what some may think, beach bums are not all lazy, irresponsible individuals; they are often quite content with their carefree lifestyle.
The culture of beach bums
The culture of beach bums is unique and varied. It encompasses everything from the shaggy-haired surfers who spend their days chasing the perfect wave to the more relaxed beachgoers who just want to soak up some sun and catch up on some reading.
Beach bums come in all ages, shapes, and sizes, and they often share a common enthusiasm for the beach lifestyle. They can typically be found near the shores, enjoying a cold one with friends or enjoying a good book while soaking up some rays.
The culture is also highly accepting—while there are certain norms associated with beach bums, everyone is welcomed into this unique culture regardless of their backgrounds or beliefs.
Beach bum stereotypes
Beach bums are often seen as carefree, laid back individuals who spend their days soaking up the sun, enjoying the sand and surf, and having fun with friends. Though this is partially true, there are a variety of other stereotypes associated with beach bums.
Some people perceive beach bums as irresponsible, lazy, and lacking ambition. Others may see them as irresponsible partygoers who are only looking for a good time.
However, these stereotypes don't do justice to the beach bum culture. In reality, beach bums are dedicated to living life to the fullest and taking advantage of every opportunity that comes their way.
They are passionate about enjoying time away from work and the everyday grind of life. Beach bums have an adventurous spirit that is often seen in the way they tackle life's challenges.
Despite the negative stereotypes associated with them, beach bums are some of the most vibrant and free-spirited people around.
Ultimately, they are happy individuals who choose to live life how they want and not be bogged down by the expectations of society.
The benefits of being a beach bum
Being a beach bum has its many benefits. Beach bums have the benefit of being able to enjoy the outdoors and take advantage of the sun, sand, and surf.
They can relax in a natural setting and enjoy the fresh air and sunshine. Beach bums also get to experience the culture of other beachgoers and take part in activities such as surfing, swimming, and beach volleyball.
Additionally, beach bums often find themselves with more freedom than those who work regular nine-to-five jobs; they can choose when to work, how often to work, and what type of job they want.
Finally, beach bums often have access to unique opportunities not available to most people; for example, they can often find themselves taking part in exciting activities that would normally be out of reach for many people.
All in all, the choices, freedom, and experiences that come with being a beach bum make it an incredibly rewarding lifestyle.

What it takes to be a beach bum
Being a beach bum isn't just about living an easy-going, carefree life—it takes a special kind of person to make the most of life near the ocean.
It requires dedication, commitment and a certain attitude to embrace the simple pleasure of nature.
It also means being open-minded and flexible to different situations that may arise from living this lifestyle.
Moreover, it takes a positive outlook and creative problem-solving skills to deal with the various challenges of living on the beach.
Ultimately, being a beach bum is about having an adventurous spirit, making the most of each day, and embracing the exciting possibilities of life by the sea.
The lifestyle of a beach bum
The beach bum lifestyle is one that is envied by many. It's a life of relaxation, exploration, and freedom.
Beach bums spend their days soaking up the sun, swimming in the ocean, and exploring the islands.
They get to experience cultures and lifestyles different from their own, while enjoying the beauty of nature without being tied down by commitments.
The beach bum life isn't all fun and games though – they often work odd jobs to make ends meet, but they make up for it with their laid-back attitude and zest for life.
Life as a beach bum is the ultimate escape from the hustle and bustle of everyday life.
The attitude of a beach bum
The attitude of a beach bum is one of relaxation and contentment. They have an appreciation for the simple joys of life, such as spending time outdoors in the sun, taking long swims in the ocean, and generally just enjoying the moment.
They are laid back, carefree, and don't take life too seriously. They believe that life should be enjoyed to the fullest, and are always up for a good time or adventure.
Beach bums are optimistic and have a positive outlook on life. They live in the moment and don't worry about what tomorrow brings. They embrace their freedom and enjoy the little things.
Beach bums in popular culture
Beach bums have been featured in popular culture for decades. Whether it's the laid-back attitude of the surfer in "San Diego Surf" or the stoner comedy of "The Beach Bum", beach bums have been portrayed in a variety of ways.
Many movies, television shows, and books feature beach bums as characters, providing an insight into their unique culture and lifestyle.
From romantic comedies to dramas, beach bums have become an iconic part of our pop culture landscape, embodying the relaxed attitude that so many of us strive for.
Whether it's living on the beach and selling margaritas while naked, or just enjoying a day out on the sand with friends, beach bums are sure to be found in some form or another in popular culture.
Q & A Questions
What is the best way to prepare for a day of beach bumming?
1. Pack the essentials: sunscreen, hat, sunglasses, water bottle, beach towels, and a beach blanket.
2. Wear comfortable, breathable clothing and footwear so you can stay cool and protect your feet.
3. Bring books, magazines, or some other entertainment to keep you occupied.
4. Bring snacks and drinks to keep your energy levels up, and don't forget a cooler to keep them chilled.
5. Bring an umbrella or canopy for shade, and beach chairs for comfortable seating.
6. Bring a camera to capture those special memories.
7. Lastly, bring a good attitude and a smile.
What are some of the most popular beach bum activities?
1. Swimming
2. Sunbathing
3. Paddleboarding
4. Beach volleyball
5. Surfing
6. Boogie boarding
7. Beachcombing
8. Building sandcastles
9. Launching kites
10. Fishing
What items should you bring to the beach for a day of beach bum?
1. Beach towel
2. Sunscreen
3. Sunglasses
4. Hat
5. Flip-flops
6. Beach bag
7. Water bottle
8. Beach umbrella
9. Snacks/Lunch
10. Beach toys (such as a Frisbee or football)
11. Beach chair
12. Portable speaker
13. Book or magazine
14. Beach blanket
What is the best beach destination for a beach bum?
The best beach destination for a beach bum is Hawaii. With its warm tropical climate and some of the world's best beaches, Hawaii is a beach bum's paradise.
From the laid-back vibe of the North Shore to the stunning beaches of Kauai, Hawaii offers a little something for everyone.
With fun activities like snorkeling, surfing, and swimming, this is the ultimate beach destination for a beach bum.
What types of food and drinks do beach bums enjoy?
Beach bums typically enjoy light and refreshing foods and drinks such as sandwiches, salads, fruit, smoothies, iced tea, and craft beers. They also might enjoy grilled seafood, tacos, or pizza. For snacks, they might enjoy nuts, jerky, and trail mix.
Conclusion
The life of a beach bum is an attractive one, with its laid-back attitude and free-spirited lifestyle. While there are certainly some stereotypes and preconceived notions that come along with being a beach bum, the reality is that it can be a wonderful way to enjoy the best of what the beach has to offer.
Beach bums come in all shapes and sizes, and they don't all fit the same mold. Whether you're looking for an escape from the hustle and bustle of everyday life or a way to find yourself in paradise, being a beach bum could be the perfect answer.
Shop Surf Jewelry
Finding the ideal Surf Jewelry to match your Surfer look can be challenging and time-consuming, especially if you lack inspiration or don't know where to look.
Surflegacy has you covered. We have a wide range of surf-style necklaces and bracelets, to accentuate your surfer look.
Our pieces are crafted in Italy with care and style in mind, reasonably priced, so you won't have to break the bank to get one. Visit our store and let us assist you on your fashion journey.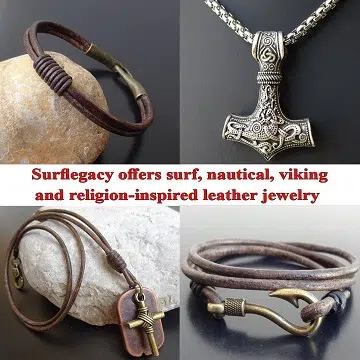 You might also be interested in:
Surfer Hair: The Ultimate Guide to Achieving the Perfect Look